Fortified Rice Making Machine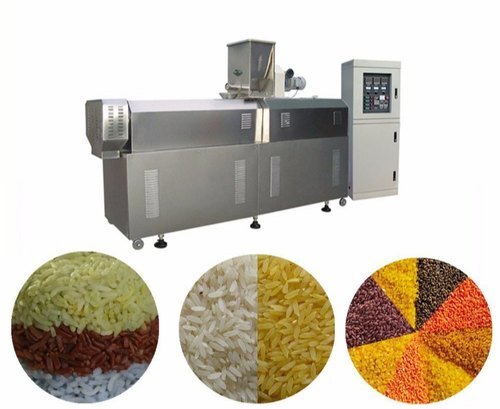 Fortified Rice Making Machine
Price And Quantity
Product Specifications
Product Description
Fortified Rice Making Machine is used for processing of rice grains under controlled temperature. This well furnished system comprises of mixing unit, extrusion section, drying area and packaging section. Fabricated from stainless steel, this system can handle rice of different grades. All the contact components of this machine are made of food grade stainless steel. It has internal temperature controller to process grains of rice at specific temperature range without affecting its nutrients. Offered Fortified Rice Making Machine is user friendly and its output is praiseworthy.
Rice is one of the principal food sources on the planet. Because of countless proteins and minor components misfortunes during rice making handling, so that incredibly lessen supplements. Artificial rice is a grain item made to look like rice. It is generally produced using broken rice, now and again with the expansion of different grains, and frequently invigorated with miniature supplements, including minerals like iron, zinc, nutrients. Artificial rice making machine providers utilize twin screw extruder innovation, accept broken rice as natural substance, finely processing and blending in with supplements premix, in the wake of molding with steam and water, flour go into the extruders to be re-granulated for re-designing trim.

Artificial rice has the comparative appearance with rice, yet their sustenance and elements are different,the principal highlights like tone, shape, size, surface, and cooking attributes and cooking season of these rice-like grains can be custom fitted to the prerequisites of explicit applications by alteration of the food extruder machine boundaries. artificial rice is effectively cooked, and has no need of washing. The capacity time frame is long. We can steam, bubble and braise the artificial rice straightforwardly when we cook. We can likewise blend the artificial rice in with standard rice together by specific extents. The cooked rice has chewy taste and unadulterated sweet-smelling flavor. The main component of rice creation innovation is vital for the body to change it up of supplements to food varieties to deliver an assortment of wellbeing food items, food and practical food impacts.
Artificial Rice Processing Line Flow Chart: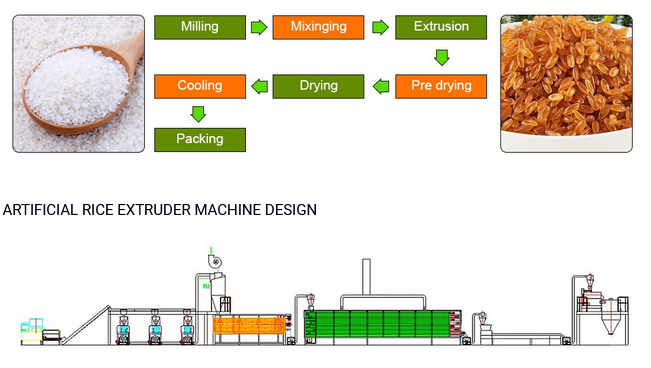 Technical Specifications:
| | | |
| --- | --- | --- |
| | APM70 | APM75 |
| Installed Power | 120kw | 200kw |
| Power Consumption | 90kw | 150kw |
| Output | 150-200kg/h | 250-300kg/h |
| Size (LxWxH) | 16000x1500x2200mm | 18000x3500x4300mm |
Manufacturing Project Report
The Advantages of Fortified Rice Making Machine
Series of twin screw extruder comprises of taking care of framework, expulsion framework, rotating cutting framework, warming framework, driving framework and control system.frequency control, serious level of robotization, smooth activity, long help life.
The screw of twin screw extruder are made of the compound steel and extraordinary craft,durable usage,high pressure,the screw life is longer.
The constrained grease arrangement of twin screw extruder,can ensure the hardware transmission life longer.
Auto-temperature control framework makes the temperature control more straightforward survey and the boundary more exact.
Self cleaning,when stopping,it can cleaned without dismantle.
Fixing adaptability extruder recipes.
FAQs of Fortified Rice Making Machine:
1) What is Artificial rice processing line flow chart?
Processing - > Mixing Extrusion - > Pre drying - > Drying - > Cooling - > Packing

2) When is rice fortification feasible?
Research demonstrates that rice stronghold is financially achievable assuming rice utilization is something like 100 grams for each individual each day.
Rice fortress is most handily executed in current factories with a creation limit of something like 5 metric tons 60 minutes. Rice can likewise be braced in enormous appropriation channels, for example, taxpayer supported initiatives.
Rice fortress isn't yet pragmatic assuming the processing business basically comprises of little, decentralized tasks. The business pattern towards combination of factories leans toward the achievability of rice stronghold.

3) What are fortified kernels?
Sustained rice pieces are either covered rice portions or expelled rice-molded bits arranged with a blend of nutrients and minerals.
At times a fine mix of supplements is tidied onto unfortified rice, however this is just helpful in nations where purchasers don't wash rice prior to cooking it.

4) Does rice fortification improve people's health?
A few controlled examinations have affirmed that rice stronghold works on supplement admissions, albeit no information from huge scope programs is yet accessible. This is somewhat in light of the fact that a couple of enormous scope rice stronghold programs have been executed.
A few randomized, controlled preliminaries contrasting the viability of rice braced and iron effectively worked on the iron status of the intercession bunch.

5) What vitamins and minerals are lost as rice is milled?
Iron, zinc, calcium, thiamine, riboflavin, and niacin are among supplements normally in rice. The supplement content ranges enormously, contingent upon the rice assortment.
Notwithstanding assortment, in any case, the supplement rich layers of rice are by and large eliminated in the processing system. Unpolished, earthy colored rice holds a greater amount of its unique nutrients, yet cleaning eliminates 75% to 90% of these supplements.
Parboiled rice contains a greater amount of the normal water-solvent nutrients than earthy colored rice in light of the fact that the nutrients are safeguarded in the endosperm.
Stronghold reestablishes these supplements or adds supplements on a case by case basis by the populace.

Trade Information
Cash Against Delivery (CAD), Cash on Delivery (COD), Cash Advance (CA), Cash in Advance (CID), Cheque

10 Per Month
Contact Us
Plot No. 4, Parvesh Marg, Rly Road, Old Faridabad, Faridabad, Haryana, 121002, India
Phone :08045816882